Your home in Marbella
Welcome to La Villa Marbella, where luxury and tranquility blend in perfect harmony.

Nestled in the sun-kissed region of southern Spain, our exquisite hotel offers an unforgettable escape for those seeking the ultimate Mediterranean experience.

Indulge in the elegance of our meticulously designed rooms, each thoughtfully crafted in asian style to provide the utmost comfort and style.
From exotic asian furnishings to modern amenities, we ensure every detail caters to your discerning taste.

Immerse yourself in the captivating ambiance of Marbella, where pristine beaches, vibrant culture, and world-class entertainment converge.
Explore our amazing historic Old Town, with its charming streets, quaint shops, and delightful cafes. Bask in the sun on the renowned golden sands of Marbella's beaches, or embark on thrilling water sports adventures.

At La Villa Marbella, we pride ourselves on exceptional service. Our dedicated team is committed to delivering personalized attention and creating cherished memories for our esteemed guests. From arranging exclusive excursions to recommending the finest local dining experiences, we strive to exceed your expectations.

Whether you're planning a romantic getaway or a family vacation, La Villa Marbella offers a variety of tailored experiences to suit every occasion.

Book your stay with us today and let us craft an unforgettable journey filled with serenity, and warm Mediterranean hospitality.

Your dream escape awaits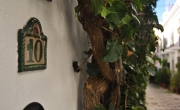 Special Lodging....Special Concept....
La Villa Marbella- Old Town is located in the heart of the Old Town of Marbella, Spain. Our house nearly 200 years old, has been fully refurbished and its rooms decorated in the finest Asian style. The quiet, pedestrian only, streets and the pleasant neighbourhood make the Hotel an oasis of tranquility and comfort, only 3 minutes walk from the famous Orange Square.

From the terrace of our house in the Old Town , our guests can enjoy stunning views of the Sierra Blanca mountains and the Old Town itself with its Arab Walls which date back to the 9th Century. With our focus on excellence in service, the Hotel and its staff will be at your disposal to assist in any way possible to help improve your holiday.
We provide personal choice of breakfast, internet free of charge in all rooms and terrace and can also arrange transfers from and to the airport and other places of interest if required.
For those who appreciate prime dining, La Villa Marbella- Old Town is located within walking distance of many of the finest local restaurants, from Italian and French cuisine to local and Mediterranean dishes such as Paellas and of course, tapas.
La Villa Marbella-Old Town provides the tranquility of the Old Town yet is close to the main points of interest in the city, only 8 minutes walk from the beach front and a short taxi ride to the famous Puerto Banus Marina, Shopping Centres and Local Beach Clubs.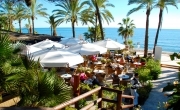 Click here to learn more of what Marbella has to offer.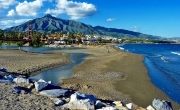 To hear more about the services we offer, click here.